Activeeon solutions for AI and HPC available as a Service with HPE GreenLake
December 17, 2020 - Press Release
Activeeon orchestration solutions for HPC and AI will be available as part of HPC-as-a-service offering from Hewlett Packard Enterprise (HPE) on its GreenLake cloud services platform.
As key platform provider and part of HPE's Independent Software Vendor (ISV) partner ecosystem, Activeeon also offers its solutions for automation and machine learning through GreenLake. Enterprises can benefit from an optimized HPC experience and easily deploy solutions for any workload need, in any data center environment.
HPE announced on December 9, 2020 that it is offering its high performance computing (HPC) solutions as a service through HPE GreenLake. The new HPE GreenLake cloud services for HPC allow customers to benefit from an elastic and pay-per-use cloud experience with the world's market-leading HPC systems from HPE. Now any enterprise can tackle their most demanding compute and data-intensive workloads, to power AI and ML initiatives, speed time to insight, and create new products and experiences through a flexible as-a-service platform that customers can run on-premises or in a colocation facility.
The new offering removes the complexity and cost associated with traditional HPC deployments by delivering fully managed, pre-bundled services based on purpose-built HPC systems, software, storage and networking solutions that come in small, medium or large options. Customers can order these through a self-service portal with simple point-and-click functions to choose the right configuration for their workload needs and receive services to get started quickly.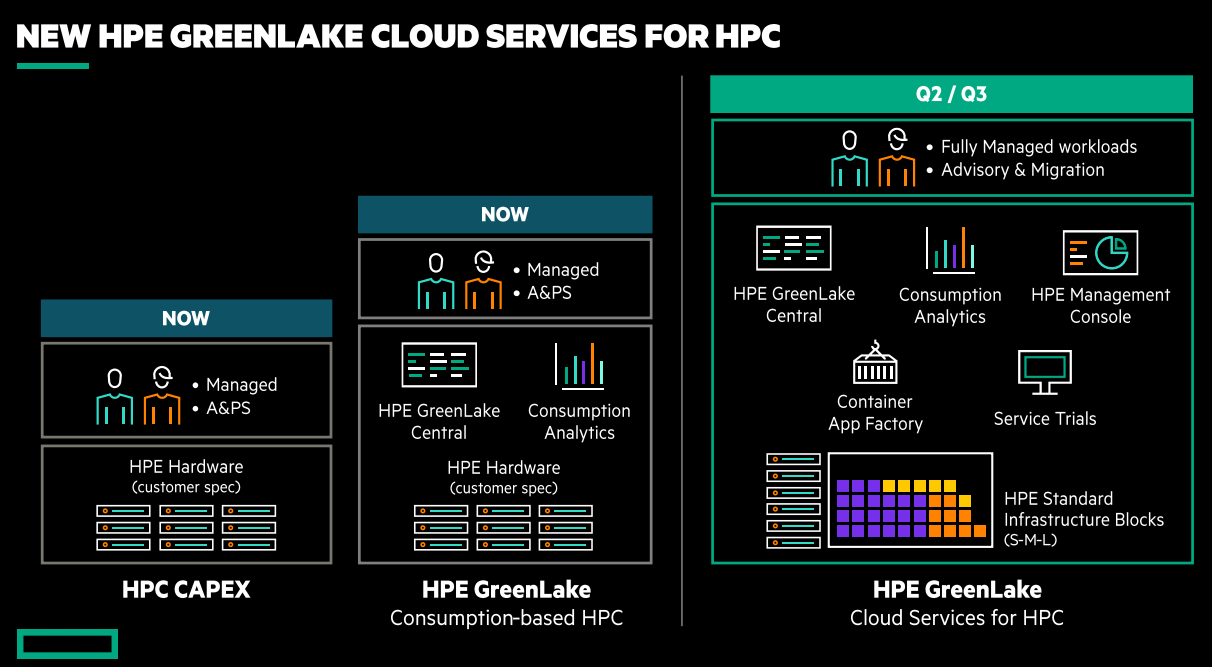 Images source:
HPCWire
Powerful as-a-service HPC goes mainstream with on-demand, fully-managed and pay-per-use services
HPC provides massive computing power, along with modeling and simulation capabilities, to turn complex data into digital models that help researchers and engineers understand what something will look like and perform in the real world. HPC also provides optimal performance to run AI and analytics to increase predictability.
However, traditional deployment and management of HPC systems is costly, complex, and resource-intensive. Top concerns involve system costs, operational costs related to power and cooling, and lack of skilled HPC technical staff, according to Hyperion Research.
HPE is dramatically simplifying this experience by speeding up deployment of HPC projects by up 75% and reducing capital expenditures by up to 40% by offering its world-leading HPC portfolio through HPE GreenLake cloud services. Enterprises can deploy these services in any data center environment, whether on-premises in their own enterprise or in a colocation facility, and gain fully managed services that allow them to pay for only what they use, empowering them to focus on running their projects to increase time-to-insight and accelerate innovation.
Availability
Initial pre-bundled offerings for HPE GreenLake cloud services for high performance computing (HPC) will be generally available in spring of 2021 for customers globally. HPE plans to expand HPE GreenLake cloud services for HPC to additional technologies, which includes Cray-based compute, software, storage and networking solutions, in the future. All HPE GreenLake cloud services, including for HPC, are available through HPE's channel partner program.
About Activeeon solutions
ProActive Workflows & Scheduling is a complete packaged and end-to-end platform for workload automation, scheduling and orchestration. It enables data scientists, IT professionals and system administrators to quickly implement IT and business pipelines developed with any language (Bash, Cmd, Python, Java, etc.), deployed on any platform (on premise, cloud, HPC cluster, etc.), then continuously monitor their execution and fully support governance, visibility and compliance. Within the same organization, Activeeon workload automation solution offers dedicated web portals taking into consideration the specificity of each team at the functional and operational levels.
ProActive Machine Learning is a flexible solution for the distribution and parallelization of Artificial Intelligence (AI) workloads (e.g. machine learning, deep learning, computer vision, etc.) on any large infrastructure. Designed for data scientists and engineers in machine learning, the solution is easy to use and adapts well to the needs of these professions by simplifying and accelerating the industrialization of machine learning. For this purpose, ProActive Machine Learning has catalogs containing numerous machine/deep learning ready-to-use workflows. Such workflows or pipelines facilitate, for example, the extraction, transformation, processing and preparation of data for the purpose of automatic models learning.
Learn more about seamless workload management solutions for HPC and AI offered by Activeeon, HPE and Intel.
Published on December 17, 2020